The association European Democratic Lawyers, AED-EDL is celebrating 30 years of work in defence of the rights of citizens. This federation of European lawyers has aimed at preserving the independence of lawyers with regard to any power, be it political, social, economic or ordinal.
Much has changed since 1987:Back then, the European Union seemed to be able to provide a common space, characterized by the creation of a democratic, modern and human European law. Thirty years later, we meet to discuss the changes in Europe, the strategies to defend fundamental rights and the solidarity with our colleagues all over the world.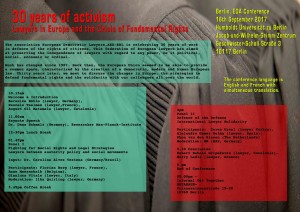 We hope to see you in Berlin!
Download our invitation in English: Berlin – 30years or in French: Berlin -30 ans