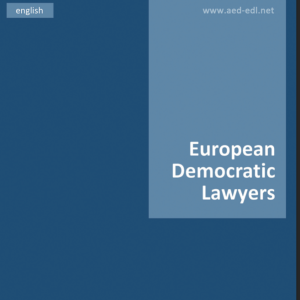 Founded in October 1987 as a confederation of lawyers' unions and organizations sharing the same democratic ideals, the association "EUROPEAN DEMOCRATIC LAWYERS" (E.D.L. /A.E.D.) saw its statutes definitively adopted in Strasbourg, April 21, 1990 and was registered as an association at the Register of Associations of the Magistrates' Court of Colmar (France) on July 4th, 1990.
The E.D.L. aims at defending the rights of citizens by preserving the independence of lawyers with regard to any power, be it political, social, economic or ordinal.
As a professional organization, the aim of the E.D.L. at international level is to promote the respect of the rights of the defense and in particular to preserve the physical integrity as well as the political and economic freedom of lawyers.
Likewise, the association works to permit all the access to national and international jurisdictional appeal.
The E.D.L. supports especially those who are in precarious situations and those whose basic rights are not recognized or hardly acknowledged.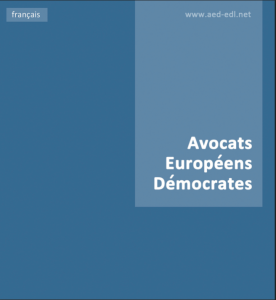 The E.D.L. participates in the creation of a democratic, modern and human European law. For this purpose, it organizes working meetings allowing the confrontation of experiences and aiming at finding positive common solutions. Too often lawyers are confronted with the disparity of legislations and jurisprudences as well as with differences in the administrative structures of other countries, while the discussion of democratic solutions would be essential.
By taking part in numerous international meetings, the E.D.L. gives itself the means to accomplish the goals which it has set out.