The Day of the Endangered Lawyer was dedicated this year to Turkey, where the situation is extremely grave. Turkey is the weakest link of European democracy, if it can still be called a democracy, when lawyers are imprisoned.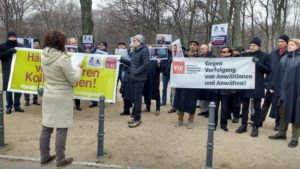 Berlin
All over Europe, practicing lawyers mobilized to show solidarity with their colleagues and concern for their situation in front of the embassies. The same letter was handed out to the officials in the embassy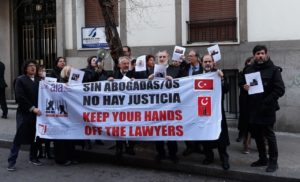 Madrid
There was a minute of silence in Italian courtrooms, while in Athens our colleagues organized a conference on the issue of justice in Turkey, where Turkish judges in exile denounced the situation.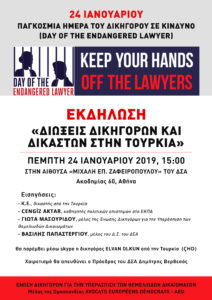 In Berlin, lawyers from RAV and VDJ, together with the Bar Associations of Berlin and Hamburg and  the Association of Criminal Defenders Berlin, had rallies in front of the Turkish Embassy in Berlin with about 35 participants and also there was another meeting  in front of the Turkish Consulate in Hamburg.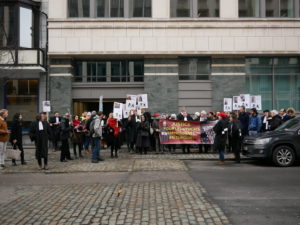 Brussels
In different Turkish countries, the day of the Endangered Lawyer was followed with a conference in Ankara, a rally in Istanbul and initiatives in Izmir.