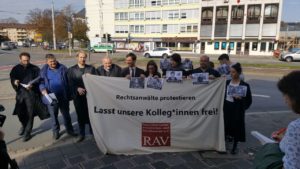 We are demonstrating today in front of the Turkish Consulate in Hamburg, The Hague, Brussels and Milan to protest the recent
arrest of 16 of our colleagues from Turkey. Since mid-September, they are detained in Ankara, Istanbul and Diyarbakır.
We are especially concerned about the situation of lawyers Barkın Timtik, Engin Gökoglu and Özgür Yılmaz. We fear that they are (again) suffering torture. These lawyers are members of the "People's Law Office" ("People's Law Office") and have represented two opposers of the regime who are currently in hunger strike after being released from their teaching activities.
We are convinced that our colleagues are only exposed to state repression because of their professional activities.
The number of lawyers prosecuted in Turkey is 1343 after this last wave of raids against lawyers. 524 of them have been arrested since the staged coup attempt in July 2016.
Our protest is not just taking place here in Hamburg.
These demonstration has emerged as a common   initiative of the umbrella organization for European Democratic Lawyers (EDL).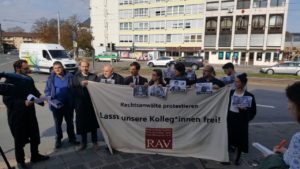 There are lawyers from France, Germany, the Netherlands, Catalonia, Belgium, Spain, Greece, Italy and Turkey who share the same democratic, modern and humane ideals in Europe.  As a professional organization, as an international organization, it pursues the international purpose of respecting the rights of the defense in particular, the physical integrity and the political and economic freedom of lawyers.
In September, rallies were held in Berlin, Madrid, Paris, Amsterdam, Barcelona, Brussels. Even today, many other cities are to be demonstrated before Turkish interests.
We will not give peace and our colleagues will not be left in the lurch. We demand the release of the lawyers who have been imprisoned!